Dolls House Dolls and Miniatures
At the studio we make a good selection of doll house dolls which are 1/12th scale (the most popular choice for dolls houses). Some are taken from antique dolls and so are alittle smaller which reflects real life.
We are able to make the dolls in flesh colour as shown below, or in white as shown by Victoria. If you would like white glazed dolls we are able to offer this too and are very similar to early German dolls house dolls from the 1840's - 1850's. Dolls such as the Pouty boy and girl are supplied with a mohair wig kit. We do have more dolls than shown here and are adding some more soon.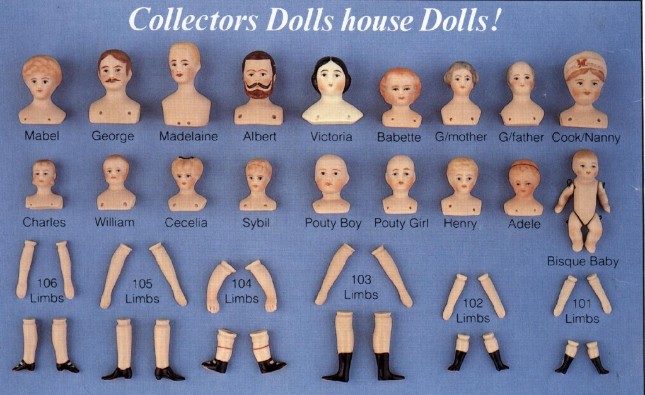 Porcelain Dolls House Miniatures and Moulds
To compliment our dolls house dolls we also make 1/12th porcelain miniatures. They are made form our own range of moulds which are available to purchase. Below we have shown some of our range of miniatures but more are shown in the price list and includes Staffordshire dogs/cats, washbasin sets, ornaments etc. If you would like to make them yourself please see the mould section in the price list, each mould comes with tips for pouring and cleaning. We will be adding to this range with more original items.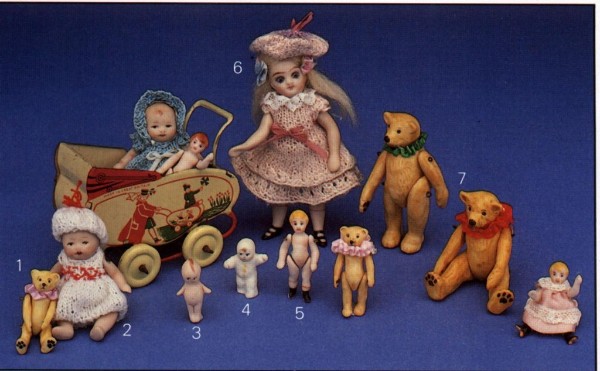 1. Pip Teddy 1.25" 2. Bisque baby 2.5" 3. Kewpie doll 1" 4. Snowbaby 1" 5. Dot doll 1.25"
6. Joanna doll 3.5" 7. Robbie bear 2.5" (not 1/12th scale)
Moulds are available for all these miniatures and more! Sorry pram is a prop.